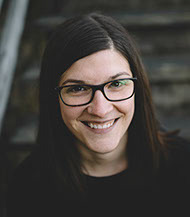 Maggie Willsey received her BFA in Metals from SUNY New Paltz, and her MFA in Visual Art from the University of Wisconsin-Madison. Trained as a Metalsmith, her repertoire has expanded to include the traditional craft practices of Blacksmithing and Woodworking.
In her work, Maggie explores ideas of home, memory and emotion through the distortion of perspective and the deliberate use of material, including found objects. Her inherent love of material and dedication to handcraft are connecting threads running through her work.
Maggie has assisted in numerous workshops and classes, and has shown her work at Mesa Contemporary Arts Center (Mesa, Arizona) and Quirk Gallery (Richmond, Virginia) among others.